Springwood Festival is conducted annually by a not-for-profit community association of local businessmen and women and community minded citizens, registered as Springwood Festival Inc. ABN: 81 389 989 820.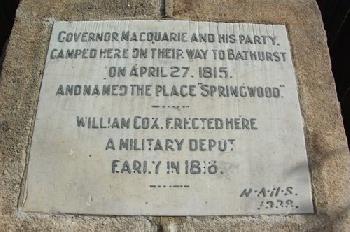 The support of local sponsors, local State Emergency Services, local Rural Fire Service Brigades, local Police and many willing volunteers has made it possible to carry on a tradition that represents a huge day for the lower Blue Mountains community to participate in the festival that celebrates the spirit of our town, Springwood.
Springwood Festival celebrates the village's heritage and showcases what it has become and is held in the main street of Springwood, Macquarie Rd.
" Springwood was named by Governor Macquarie in 1815 when the Governor and his wife stopped by a spring for water down a deep glen." (from bluemts.com.au) The 2011 census shows Springwood as the largest town in the Blue Mountains, population 8,437.


For more information on Springwood's history visit the Blue Mountains Australia website:
http://www.bluemts.com.au/info/towns/springwood/
Or the Springwood Historical Society's website:
http://www.bluemts.com.au/historicalsociety/history.htm
For more about Springwood and what to do here, look at the VISITNSW.com Springwood Page
www.visitnsw.com/destinations/blue-mountains/katoomba-area/springwood
AND also:
VisitNSWwebsite